FESTIVAL TEAM 2022

We are very pleased to introduce our team for this year.
DINO REKNOVIC / MANAGING DIRECTOR
Since 2000 he lives and works in the field of culture and art management in Vienna. He is co-founder and initiator of numerous projects, associations and initiatives. Since 2016 he has founded and directed ZIGUTAMVE.Association for contemporary photography. At the beginning of 2018 he took over the project coordination and management at the PHOTON Gallery in Vienna and represents the gallery at international fairs for contemporary photography. Dino is a freelance artist, gallery owner and curator.
www.dinorekanovic.com

© Max Habdank
KATI BRUDER / PROGRAM DIRECTOR
studied at the ACADEMY OF FINE ARTS Vienna (graduated in2015), where Peter Kodera taught her how to use a camera.Since 2003 she has been working as a freelance photographerwith a focus on portraits. In her photo series Kati Bruderexplores the ambiguity of visibility, searching for answersto the following questions: how do our social status andgender affect our visual perception? What are we allowed tosee by whom? What role is played by the symbolic signifi canceof the gaze and what poses do we strike as soon as a camerais pointed at us?Kati Bruder lives in Vienna and works internationally.
www.katibruder.com

© Kati Bruder


ULRIKE MAYRHUBER / GRAPHIC DESIGN


discovered her passion for analog photography at the Fotoakademie in Graz. As a final project of her studies in information design, she explored analog photographic processes and wrote the illustrated manual "Die Faszination des analogen Bildes" as her final thesis. Today she still puts the photographic process into the center of her work. Ulrike lives and works as a graphic designer and photographer in Vienna and is part of the photolab Lumen X.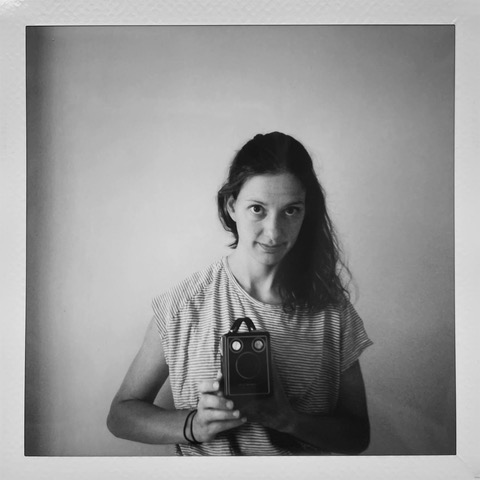 ALESSANDRA D`INTINO / GRAPHIC & SOCIAL MEDIA
Italian photographer, story teller and graphic designer living in Vienna.

Born in Varese in 1978, she was raised with a classical education in italian literature and philosophy. She attended 1999 the University of Image, a post-secondary training school of Fondazione Industria Onlus Milan, a non-profit organization founded by the photographer Fabrizio Ferri, whose philosophy deeply influenced her way of thinking.
She worked in advertising since the first decade of 2000, both in Italy and in the German speaking countries.
Since 2013 she has dedicated herself to visual art and photography: analogue, digital and old alternative processes such as albumen print.
In the team of Rotlicht Festival she is collaborating in the Graphic Design and the Social Media Management.

© Max Habdank
THOMAS LICEK / PORTFOLIO REVIEW
Thomas organized and developed the Month of Photography in Vienna since its first edition in 2004. Later he became Managing Director of Eyes On - Month of Photography Vienna, and President of the European Month of Photography (EMOP).

Currently he is mainly involved in the establishing of Reflektor, a platform for self-published photobooks.

Thomas has a long experience as a jury member for festivals and awards, and as a portfolio reviewer. For Rotlicht he is now switching the sides and organizes the first Rotlicht Portfolio Review.



© Max Habdank
KERSTIN PFLEGER / FUNDRAISING
Kerstin Pfleger attended the diploma course at fotoK - Centre for Artistic Photography from 2013 to 2016 and is an enthusiastic darkroom worker. For her, the photo lab is the perfect retreat, a place to reflect, to rest, to sink into. The manual, analogue skills play an important role in her artistic exploration. Kerstin Pfleger runs the open photo lab Lumen X in the cultural centre WUK - Werkstätten- und Kulturhaus in Vienna.
© Ulrike Mayrhuber
© Dino Rekanovic
ALIZA PEISKER / PR

Aliza Peisker studies history of arts at the university of Vienna. She is a co-editor at the Vienna based online magazine Bohema, where she manages the art department. Last year she wrote an article about the festival, takes analog photographs herself and was a loyal daily guest at the first Rotlicht Festival 2021. This year she is no longer a visitor but a team member and takes care of the public relations.
© Jakob Dörr
STELLA MONDIN / BACKOFFICE

FELICE DROTT / VIDEO

Felice works as a video journalist and photographer with a growing love for analog processes. At Rotlicht festival she portrays some of our fantastic artists and jury members via video. Her super-kraft is to find and capture "the essential glow" of a person.

© Viki Kierner
IGOR FRNTIC / TECHNIC SUPPORT

Igor Frntic is coming from Croatia, studying jazz drums and piano on Vienna Konservatorium (2011 – 2017). He started to learn music since 5 from grand father and father. He supports our team in all technical matters and is our music coordinator for Rotlicht by Night.
© Bulkin Photo
TERHAS BERHE TAREKEGN / PHOTO & VIDEO

Terhas Berhe is a photographer and film maker. Her work focuses on the everyday to social issues that looks critically at notions of documentary storytelling. She is interested in the long-term processes working with other forms such as photography, video, and performing art to trouble her narratives. She deeply believes that every human being has a powerful story to share if we give them time & space.
© Henock Alemayhu